The chances are you will have been to or at least heard of Retro Rides Gathering. If you are unfortunate enough to fall outside of those categories then let me explain.
For around the past ten years the guys over on the Retro Rides forum have curated and organised what has fast become one of the biggest classic car events in the UK calendar. I use the term classic car loosely because it is so much more than that. Retro Rides Gathering is to their enthusiasts what the Woodward Dream Cruise is to muscle car aficionados.
If there is one thing you can expect from the long weekend in August it is to expect to be surprised by what turns up and the levels of craft and ingenuity of your fellow car fanatics. There is of course something that has become a rather trying trend at the otherwise fantastic venue at Shelsley Walsh and that is the rain. Those who camped back in 2015 will no doubt agree with me…
So this years event started for us here at Noskooljustcool the same as any other year, meeting half way in some non descript service station just off the M40. Others came from further afield such at west Yorkshire which in a mini is impressive. After an uneventful motorway journey we headed into the hills. What makes the rolling Malvern hills more picturesque? The sound and smell of a 205 GTI leading the pack through some great twisties straight into the campsite.
For those of you who haven't camped, do it. You will hear the horror stories about the toilets, the rain and the mud but that is a small price to pay for what is one of our favourite parts of the weekend. I mean this year the toilets didn't even run out of paper.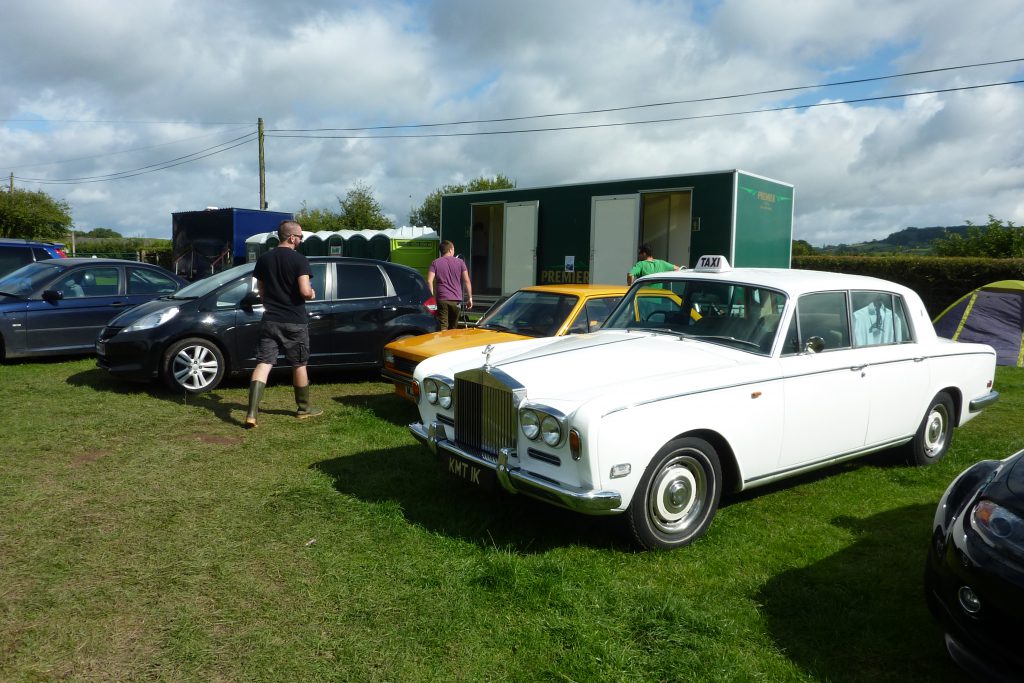 To the veteran campers such as ourselves the key is picking a good spot. We have fallen foul to leaking water troughs and wasp enticing apple trees in years gone past! This year we picked a spot right next door to the ever lively and friendly Area 52 guys. I am sure we are not alone in saying the first and most important job we did was to line the cars up at the front of the pitch and hide the load lugging modern at the back. That being said we did manage to throw a few tents and a gazebo up before the heavens really opened.
That was Friday really, sitting under a pretty sheltered gazebo listening to the rain thinking "surely not another wet year". We did get a small window of dry in the late evening which was my cue to head up the campsite hill to get some signal and reconnect with the world. Little did I know there was a rather large trench that had been dug out at the foot of the hill which I immediately fell down. I know I wasn't along with this because we managed to snap this 205 in the same state as myself.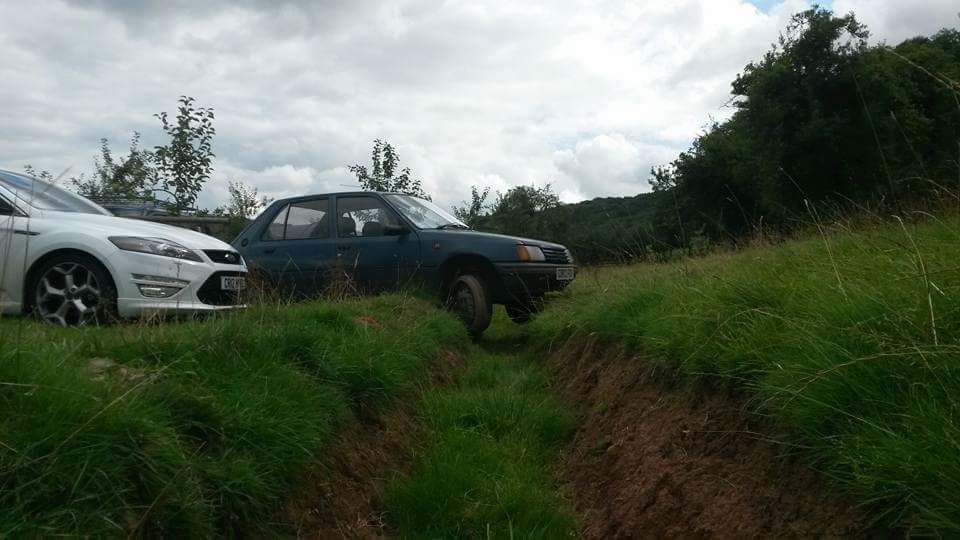 Saturday morning was a struggle for us, the night before was truly cold but a cooked breakfast quickly fired us back into life. The question on a few of the RRG newbies lips was "so what do we actually do on the Saturday". It was a very good question which we pondered over with a breakfast cider and wonder around the campsite. Others went off to a scrapyard… presumably to fill the tat auction with er tat. We on the other hand decided to hit the arcades in the town of Stourport. If you've not been just picture in your head a quaint English village with a seaside pleasure beach in the middle of it, bizarre.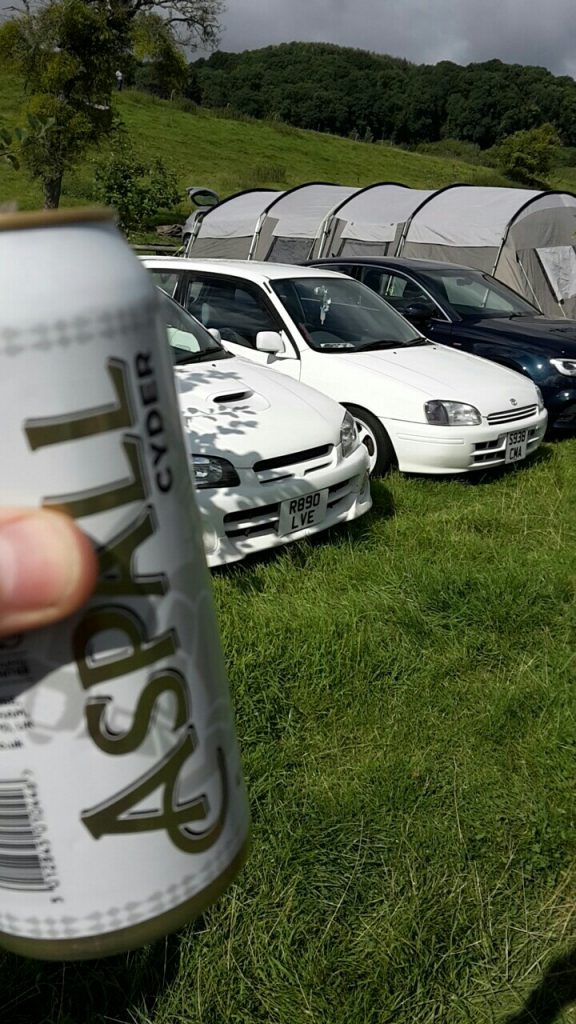 Back on the campsite and we notice its filled out massively! Lots of retro campers, genius fire pit solutions and the odd lawn mower zipping past. We did a quick recce of the show ground and found our spot, prime location, thank you Retro Rides. A few laps of the campsite down bumping into a couple of familiar faces and generally being allowed to talk in models and derivatives without being eye rolled is a wonderful thing. Before we knew it we'd had too much to eat and drink and it was time to turn the night over to the "rev it at 2am" crowd.
Sunday came around quickly and with much excitement we got up and took the cars straight over to the show ground before breakfast. The great thing about this event is the mentality of the people who attend, you can leave your gazebo and all your camping equipment out safe in the knowledge no one will help themselves to a cheeky Corona. It has to also be mentioned that this year in my eyes was one of the tidiest end of play campsites I've seen!
The first thing that surprised us this year was the sheer size of the club stand area, although quite empty to start with. With this in mind we headed straight up the hill for a couple of hours to allow the showground to fill out. I can't think of anywhere else in the world that would entertain running a bike powered 2CV along with a 70's Rolls Royce and a Mk 2 Golf. One thing we have come to learn from this event is you cannot see it all, we missed the front flying off the RS200 for example and we missed Muttley Racing's Rotary powered e-type in action. But what we did see was great and the cars were being pushed!
After heading back down the hill for a slightly expensive but ever so tasty hog roast we decided to have a wander of the show ground. The vast array of different cars, campers, vans and even trucks (thanks to CMG's ex military Foden) was an eclectic mix for sure.
Some of the more exciting cars are found in the retro parking from people not necessarily associated with a club or who may not post on social media. Two fine examples of this were this exquisite Citroen DS and the ever so rare Porsche 914.
Our highlights of the whole weekend included:
This purple Skoda Octavia estate. If any element were missing, whether it be the purple paint, contrasting vinyl or the crazy wheels it just wouldn't work but put together its sublime.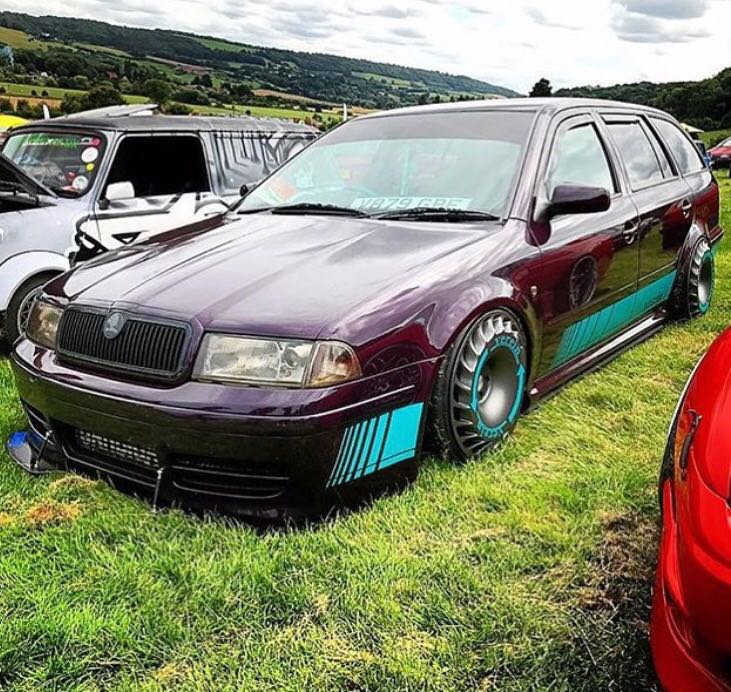 Another firm favourite was this Bedford CF. We would describe it as a true 80's survivor with those deep dished wheels tucked under the large moulded arches. A very well thought out dare I say it "dayvan".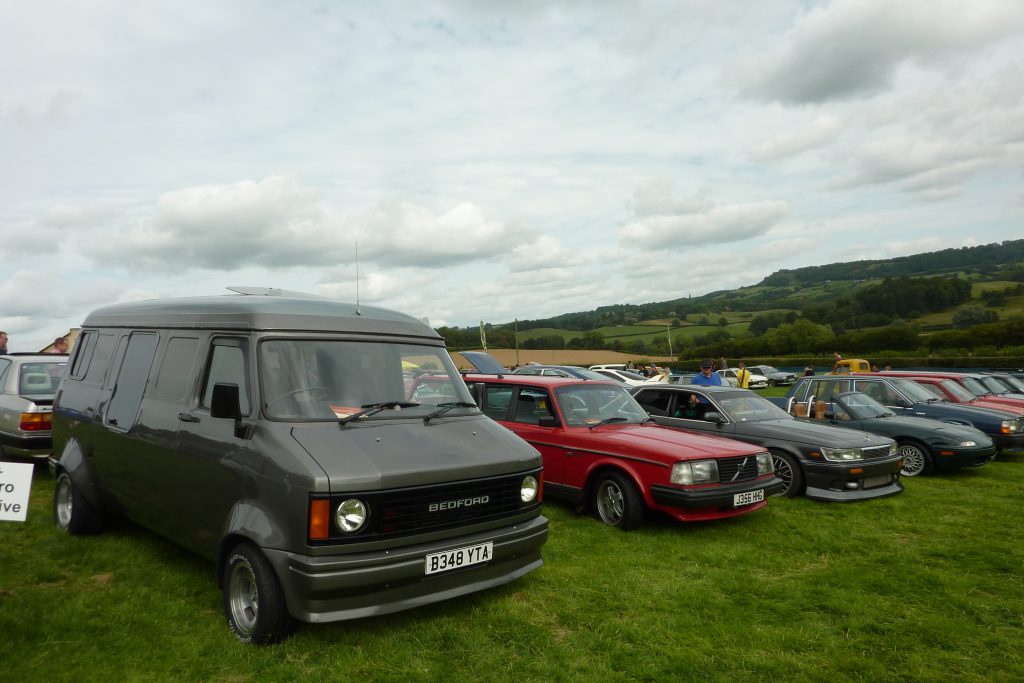 This one split us but I think it is worth a mention. Not a classic by any stretch of the imagination but a mention must be said for how well this MX5 sits on these wheels.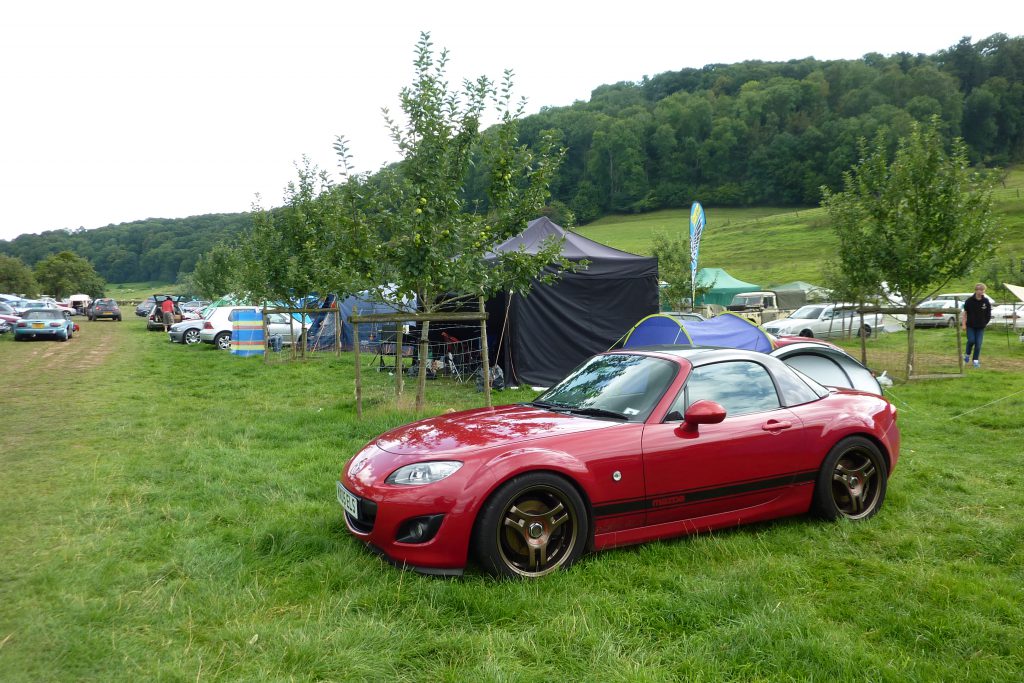 We think the award for best colour car defiantly should lie with this Datsun. The pictures does not do it justice but the bright candy apple red had everyone's heads turning.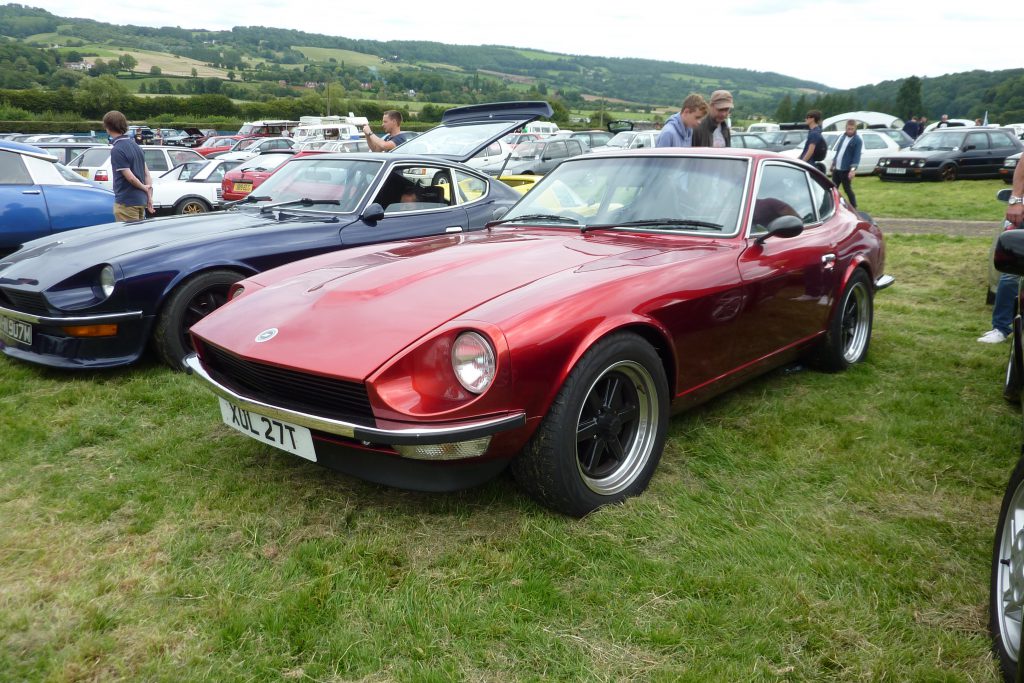 Our love for the wacky definitely showed for the jacked up Ford KA. On the face of it a bit of a joke but when you look at the engineering involved here its pretty impressive. For example the shock mounts have been cut out, turned upside down and welded back in. This gives original running gear with raised ride height, genius.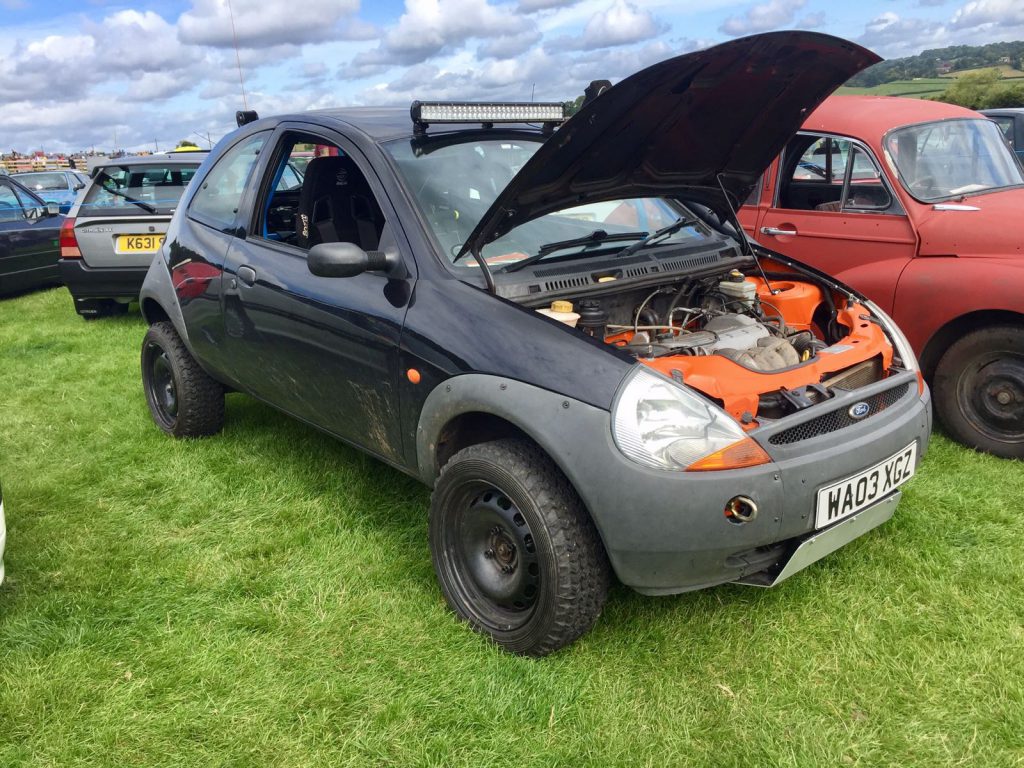 We didn't notice any major emerging trends this year, more the death of some others. There was next to no "rat look" vehicles or mock military paint jobs strewn across Renault Clios this year, a good thing? I will let you decide. We've also noticed people seem to have shied away from the Bosozoku style cars which have been a popular choice in the past.
We did notice however that the love for a smoothed and immaculate engine bay with minimal wiring seems to be on the rise. Some of the attention to detail is incredible. Another nugget that caught our eye was the use of the Lexus V8. People seem to be putting this in everything, even a Mitsubishi Shogun.
Once we had completed the show we headed back home via the ice cream stand. Driving home was long, it rained hard but I was reminded that it could be a lot more tiresome after driving past the Commer camper producing one of the loudest dins I've ever heard. Extremely cool vehicle none the less.
A few people have pondered the thought that Retro Rides Gathering may have outgrown the venue. Whilst that may not have been the case this year if next year is also held at Shelsley Walsh and the weather gods throw us an absolute blinder we could see a very full field indeed.
See you at the next show 😉
Please follow us on Facebook, we love all things cars, racing, old, modern, quirky, different.
Words by Lewis Ingram – Pictures from Noskooljustcool members